http://languagelog.ldc.upenn.edu/nll/?p=8839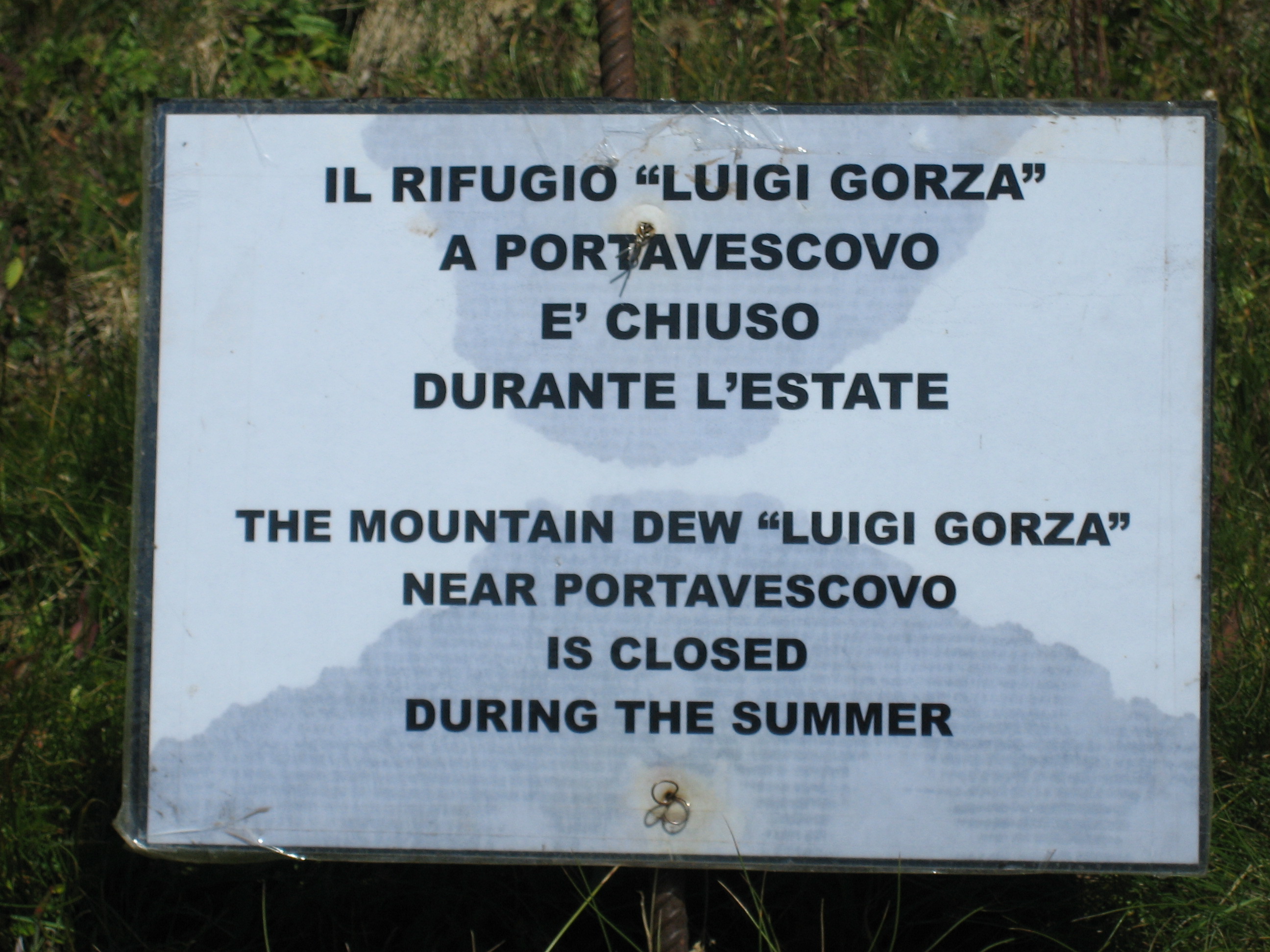 It is not just the disaster of Chinese-English translation that provides us with source material for the huge fund of hilariously inappropriate texts that we tag with Lost in Translation here on Language Log. Spanish provides them too. And here is one from Italian. What could possibly be the explanation for a failure as gross as translating RIFUGIO ("refuge") by the words "MOUNTAIN DEW"? What did they mean to put? Coca-Cola? Dr. Pepper?
It seems almost a shame to solve the mystery, yet I believe I can. And just as when one explains a conjuring trick, it's a total let-down. But this is Language Log: we aim to inform, not just to titillate. Not that there's anything wrong with that—in a well-balanced life there should be some titillation as well. If you would prefer titillation to information right now, try to work out the source of the error for yourself before you read on.
The Rifugio Luigi Gorza is a spectacularly sited ski chalet up a mountain near Portavescovo and Arabba in the Dolomites. They serve hot drinks and (this being the 21st century) provide free wireless Internet access. I believe that when the sign about its being closed in summertime was translated into English, the choice made from the array of senses that dictionaries record for rifugio was to translate it as "mountain den" instead of "mountain refuge". Tana would be a closer translation for "den", but rifugio is also commonly listed.
So somebody wrote down "MOUNTAIN DEN" in caps on a piece of paper, and the signmaker misread the last capital N as a W, and put "DEW" instead of "DEN", and nobody noticed. The sign should read: "The Luigi Gorza Refuge near Portavescovo is closed during the summer."
Sorry to ruin it for you, but I think that is probably the etiology of this particular signwriting error. (Not quite as arcane or fascinating as the stuff by Victor Mair, is it?)
Thanks to Marion Owen for sending the picture and asking about the mistranslation.
post a comment
---



http://lesswrong.com/lw/j4y/2013_less_wrong_censussurvey/

Submitted by Yvain • 69 votes • 547 comments

It's that time of year again.

If you are reading this post, and have not been sent here by some sort of conspiracy trying to throw off the survey results, then you are the target population for the Less Wrong Census/Survey. Please take it. Doesn't matter if you don't post much. Doesn't matter if you're a lurker. Take the survey.

This year's census contains a "main survey" that should take about ten or fifteen minutes, as well as a bunch of "extra credit questions". You may do the extra credit questions if you want. You may skip all the extra credit questions if you want. They're pretty long and not all of them are very interesting. But it is very important that you not put off doing the survey or not do the survey at all because you're intimidated by the extra credit questions.

It also contains a chance at winning a MONETARY REWARD at the bottom. You do not need to fill in all the extra credit questions to get the MONETARY REWARD, just make an honest stab at as much of the survey as you can.

Please make things easier for my computer and by extension me by reading all the instructions and by answering any text questions in the simplest and most obvious possible way. For example, if it asks you "What language do you speak?" please answer "English" instead of "I speak English" or "It's English" or "English since I live in Canada" or "English (US)" or anything else. This will help me sort responses quickly and easily. Likewise, if a question asks for a number, please answer with a number such as "4", rather than "four".

Last year there was some concern that the survey period was too short, or too uncertain. This year the survey will remain open until 23:59 PST December 31st 2013, so as long as you make time to take it sometime this year, you should be fine. Many people put it off last year and then forgot about it, so why not take it right now while you are reading this post?

Okay! Enough preliminaries! Time to take the...

***

***

Thanks to everyone who suggested questions and ideas for the 2013 Less Wrong Census/Survey. I regret I was unable to take all of your suggestions into account, because of some limitations in Google Docs, concern about survey length, and contradictions/duplications among suggestions. I think I got most of them in, and others can wait until next year.

By ancient tradition, if you take the survey you may comment saying you have done so here, and people will upvote you and you will get karma.

547 comments post a comment


---

3 comments | post a comment


---
http://feedproxy.google.com/~r/PolyamoryInTheNews/~3/oy8oMcGuI2c/dear-prudence-on-inviting-poly-family.html
post a comment
---
http://www.lessig.org/2013/12/so-the-march-is-on-fifteen-years-after-granny-d-started-her/
So the march is on. Fifteen years after Granny D started her march across the United States in the name of "campaign finance reform," we will begin our march across New Hampshire (the long way), in the name of "corruption reform." 
We've launched the #NHRebellion website. Check out the route, and think about what you can do. We need people to walk — 185 miles, in January, but we guarantee free coffee. Even if you can't afford the 2 weeks it will take, you can sign up for any part. And best of all: Once you sign up, they give you this really cool URL so people can pledge to support you, which means supports the #NHRebellion, which means supports the next step to fixing this mess. Here's my sponsorship link: bit.ly/SponsorLessig. here's my "please sponsor me" request.  
Thanks to the Americans Who Tell The Truth project for permitting us to use the beautiful image of Granny D. And please do what you can to help spread the word. 
(Original post on Tumblr)
post a comment
---
http://www.lessig.org/2013/12/so-how-exactly-does-one-train-for-this/
I've begun some training for this 185 mile march through New Hampshire in January. But…
(Original post on Tumblr)
post a comment
---
https://freedom-to-tinker.com/blog/amigi/cheating-on-exams-with-smartwatches/
A Belgian university recently banned all watches from exams due to the possibility of smartwatches being used to cheat. Similarly, some standardized tests in the U.S. like the GRE have banned all digital watches. These policies seems prudent, since today's smartwatches could be used to smuggle in notes or even access websites during the test. However, their potential use for cheating goes much farther than that.
As part of my undergrad research at the University of Michigan, I've recently been focusing on the security and privacy implications of wearable devices, including how smartwatches might be used for cheating in an exam. Surprisingly, while there's been interest in the security implications of wearable devices, the focus within the research community has been on how these devices might be attacked rather than on how these devices challenge existing social assumptions.
ConTest: A Smartwatch App for Collaborative Cheating
As a proof of concept, I developed ConTest, an application for the Pebble smartwatch that shows how students could inconspicuously collaborate on multiple-choice exams in real time. ConTest allows students to select a question, vote on answers, and view the most popular solution based on all of the responses from other students taking the exam. Prior to an exam, students pair their watches with their smartphones and choose the exam that they are taking. During the exam, the smartphone—hidden in the student's pocket or backpack—facilitates communication between the smartwatch and a cloud-based aggregation service. All user interaction during the exam takes place on the smartwatch itself with simple, inconspicuous button presses.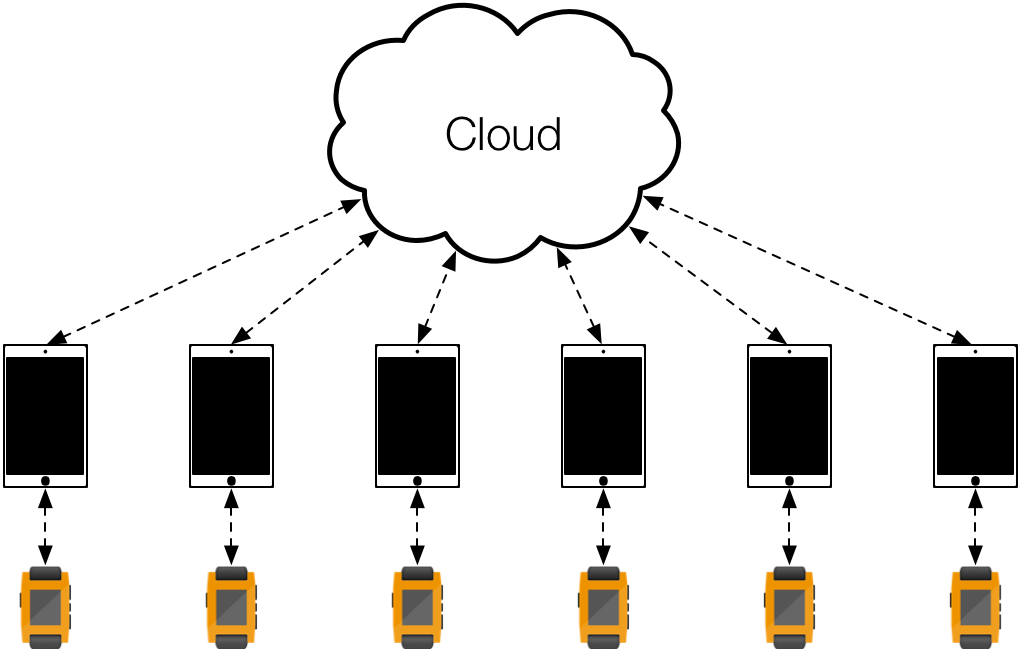 ConTest demonstrates how hard such an application can be to detect. It displays the question number and answer by inverting a small number of pixels in digits of the time and date. For example, in the figure below, the red-circled block of missing pixels in the seven indicates that the user has voted for answer B. The purple-circled block of pixels in the five indicates that the most popular answer selected by other users is D. Similarly, the question number is encoded with missing pixels in the top date digits using a binary encoding.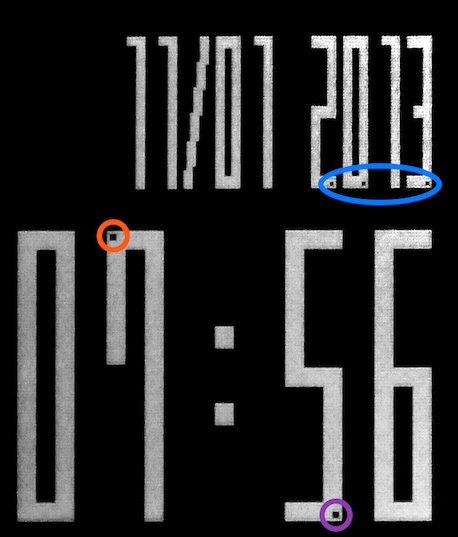 Although users can see this interface at close range, it's practically invisible from more than a couple of feet away, and the cheating application looks just like a regular watch face.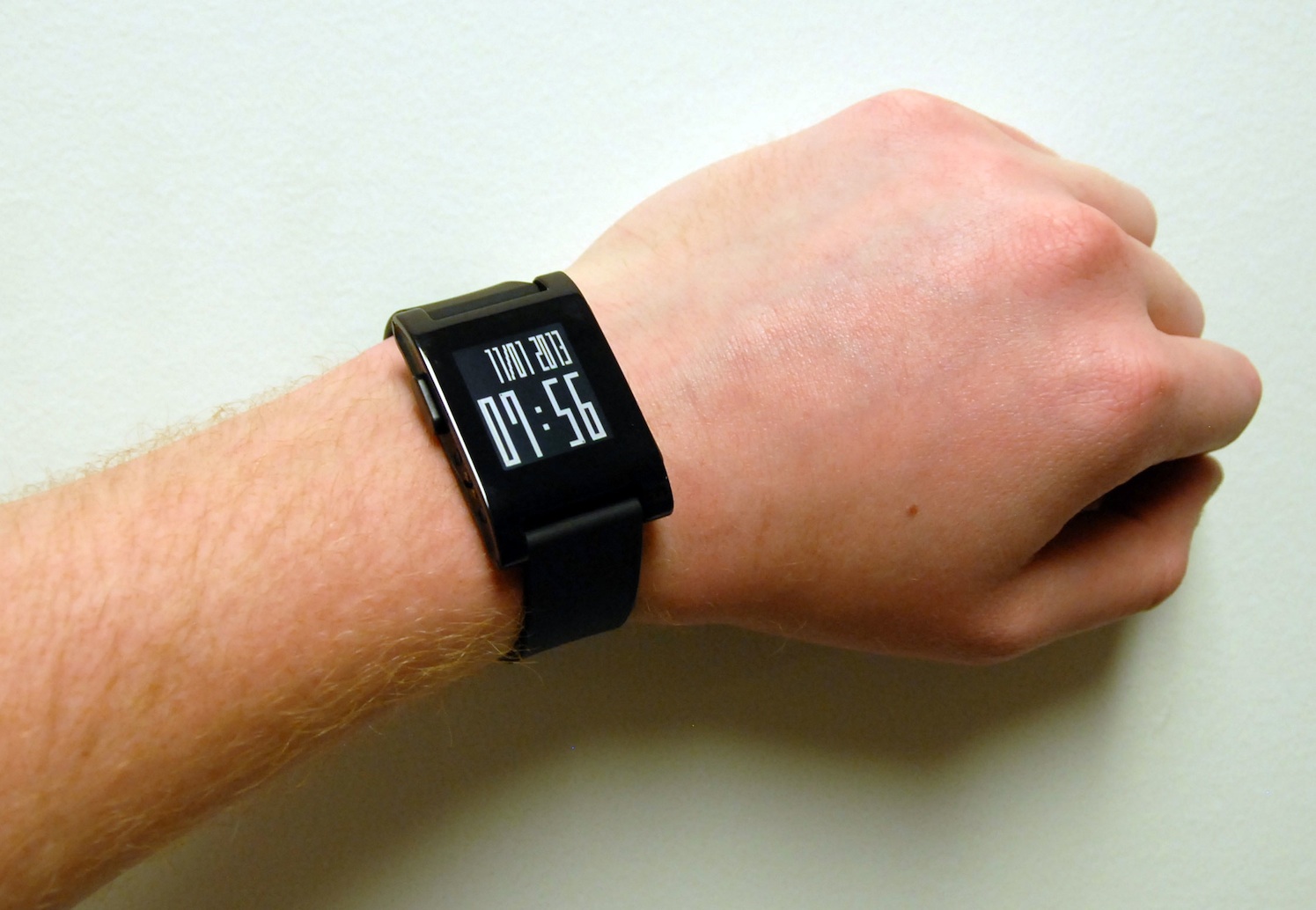 Disrupting Security Assumptions
The obvious solution for preventing students from cheating using smartwatches is to ban watches from exams, just as Artevelde College in Belgium recently did. But the devices will continue to evolve, both decreasing in size and detectability, and increasing in capability and ubiquity.  Future form factors are likely to be even less conspicuous and enable more unique attacks—think smart contact lenses or implantable smartphones. Outright bans may not be desirable or even feasible. In the long run, we will need to adapt in more drastic ways, perhaps by abandoning traditional exams as a form of student assessment.
While wearable devices offer an exciting platform for new types of applications, they also upend implicit security assumptions that are built into many everyday social contexts. Testing centers assume that watches don't talk to the Internet; casinos assume that eyeglasses aren't heads-up displays. ConTest demonstrates that even today's technology challenges present threat models. The time has come for the research community to start considering the attack vectors introduced by this new class of technology, and for all of us to start adapting our assumptions and threat models based on an awareness of such devices.
If you're interested in a more detailed discussion about ConTest and the security implications of smartwatches, see this technical paper I coauthored with Zakir Durumeric, Jeff Ringenberg, and J. Alex Halderman.
post a comment
---



http://lesswrong.com/lw/j9u/international_cooperation_vs_ai_arms_race/

Submitted by Brian_Tomasik • 8 votes • 20 comments

Summary

I think there's a decent chance that governments will be the first to build artificial general intelligence (AI). International hostility, especially an AI arms race, could exacerbate risk-taking, hostile motivations, and errors of judgment when creating AI. If so, then international cooperation could be an important factor to consider when evaluating the flow-through effects of charities. That said, we may not want to popularize the arms-race consideration too openly lest we accelerate the race.

Will governments build AI first?

AI poses a national-security threat, and unless the militaries of powerful countries are very naive, it seems to me unlikely they'd allow AI research to proceed in private indefinitely. At some point the US military would confiscate the project from Google or Goldman Sachs, if the US military isn't already ahead of them in secret by that point. (DARPA already funds a lot of public AI research.)

There are some scenarios in which private AI research wouldn't be nationalized:
An unexpected AI foom before anyone realizes what was coming.
The private developers stay underground for long enough not to be caught. This becomes less likely the more government surveillance improves (see "Arms Control and Intelligence Explosions").
AI developers move to a "safe haven" country where they can't be taken over. (It seems like the international community might prevent this, however, in the same way it now seeks to suppress terrorism in other countries.)
Each of these scenarios could happen, but it seems most likely to me that governments would ultimately control AI development.
AI arms races
Government AI development could go wrong in several ways. Probably most on LW feel the prevailing scenario is that governments would botch the process by not realizing the risks at hand. It's also possible that governments would use the AI for malevolent, totalitarian purposes.
It seems that both of these bad scenarios would be exacerbated by international conflict. Greater hostility means countries are more inclined to use AI as a weapon. Indeed, whoever builds the first AI can take over the world, which makes building AI the ultimate arms race. A USA-China race is one reasonable possibility.
Arms races encourage risk-taking -- being willing to skimp on safety measures to improve your odds of winning ("Racing to the Precipice"). In addition, the weaponization of AI could lead to worse expected outcomes in general. CEV seems to have less hope of success in a Cold War scenario. ("What? You want to include the evil Chinese in your CEV??") (ETA: With a pure CEV, presumably it would eventually count Chinese values even if it started with just Americans, because people would become more enlightened during the process. However, when we imagine more crude democratic decision outcomes, this becomes less likely.)
Ways to avoid an arms race
Averting an AI arms race seems to be an important topic for research. It could be partly informed by the Cold War and other nuclear arms races, as well as by other efforts at nonproliferation of chemical and biological weapons.
Apart from more robust arms control, other factors might help:
Improved international institutions like the UN, allowing for better enforcement against defection by one state.
In the long run, a scenario of global governance (i.e., a Leviathan or singleton) would likely be ideal for strengthening international cooperation, just like nation states reduce intra-state violence.
Better construction and enforcement of nonproliferation treaties.
Improved game theory and international-relations scholarship on the causes of arms races and how to avert them. (For instance, arms races have sometimes been modeled as iterated prisoner's dilemmas with imperfect information.)
How to improve verification, which has historically been a weak point for nuclear arms control. (The concern is that if you haven't verified well enough, the other side might be arming while you're not.)
Moral tolerance and multicultural perspective, aiming to reduce people's sense of nationalism. (In the limit where neither Americans nor Chinese cared which government won the race, there would be no point in having the race.)
Improved trade, democracy, and other forces that historically have reduced the likelihood of war.
Are these efforts cost-effective?
World peace is hardly a goal unique to effective altruists (EAs), so we shouldn't necessarily expect low-hanging fruit. On the other hand, projects like nuclear nonproliferation seem relatively underfunded even compared with anti-poverty charities.
I suspect more direct MIRI-type research has higher expected value, but among EAs who don't want to fund MIRI specifically, encouraging donations toward international cooperation could be valuable, since it's certainly a more mainstream cause. I wonder if GiveWell would consider studying global cooperation specifically beyond its indirect relationship with catastrophic risks.
Should we publicize AI arms races?
When I mentioned this topic to a friend, he pointed out that we might not want the idea of AI arms races too widely known, because then governments might take the concern more seriously and therefore start the race earlier -- giving us less time to prepare and less time to work on FAI in the meanwhile. From David Chalmers, "The Singularity: A Philosophical Analysis" (footnote 14):
When I discussed these issues with cadets and staff at the West Point Military Academy, the question arose as to whether the US military or other branches of the government might attempt to prevent the creation of AI or AI+, due to the risks of an intelligence explosion. The consensus was that they would not, as such prevention would only increase the chances that AI or AI+ would first be created by a foreign power. One might even expect an AI arms race at some point, once the potential consequences of an intelligence explosion are registered. According to this reasoning, although AI+ would have risks from the standpoint of the US government, the risks of Chinese AI+ (say) would be far greater.
We should take this information-hazard concern seriously and remember the
unilateralist's curse
. If it proves to be fatal for explicitly discussing AI arms races, we might instead encourage international cooperation without explaining
why
. Fortunately, it wouldn't be hard to encourage international cooperation on grounds other than AI arms races if we wanted to do so.
ETA: Also note that a government-level arms race might be preferable to a Wild West race among a dozen private AI developers where coordination and compromise would be not just difficult but potentially impossible.
20 comments
post a comment
---
https://freedom-to-tinker.com/blog/vicentin/digital-radio-broadcasting-in-brazil-a-technopolitical-struggle/
On the last week of November/2013 the second edition of ESC took place in Rio de Janeiro, Brazil. ESC is the acronym to "Espectro, Sociedade e Comunicação" (Spectrum, Society and Communication); as the name suggests people in this meeting discussed a fair use of the Radio spectrum in order to empower society by the use of a multiple and free mean of communication: the digital radio broadcasting.
Yes, the radio broadcasting is still important in many ways and not only in Brazil. At least since Bertolt Brecht (1898-1956) wrote "Radio as a means of communication" in 1932 there is a struggle related to the right to speak trough the radio waves. Communitarian and unlicensed free radios have been trying to survive despite the efforts from big communication groups to take them down. The radio spectrum scarcity has always been used as technical excuse to keep the communication power concentrated in fewer hands.
But now this picture can be changed in Brazil. More than two years ago the Brazilian House of Representatives created a special commission to study the digitalization of the radio broadcasting in order to facilitate the choice of the standard that will be adopted nationally. No decision was taken until now mostly because there is a strong dispute between two technological standards. This dispute clearly is a technopolitical matter.
The already established communication conglomerates support HD Radio lobbying in its favor through their class association ABRA (Brazilian Broadcasters Association). The HD Radio is a closed and proprietary standard, therefore broadcasters must pay a licensing fee to adopt the technology. Component manufacturers must get a license from patent holders and they are not able to adapt and change the standard. On the other hand DRM (Digital Radio Mondiale) is an Open Standard based on free hardware and software and has been supported by free radios as well as academic researchers. Given the openness of the DRM standard, the national industry would be able to produce the basic equipments and adapt the technology to some regional characteristics and necessities.  In the Amazon region, for example, shortwave transmissions have an important role in connecting isolated locations within the rainforest. HD Radio does not work with shortwave transmission; DRM does.
The radio broadcasting itself is changing its nature by being digitized. As we know very well the digital content is not restricted to sound, then new applications and features are being produced within the scope of digital radio. This convergence with information technologies makes the dispute even harder because at the end of the day we are talking about having a significant amount of the radio wave spectrum working with free and open technology that may transmit multimedia content. I cannot say for sure what the digital radio broadcasting will become from now but it seems that the Brecht proposals are still making sense:  the "radio  could  be  the  most  wonderful  public communication  system  imaginable,  a  gigantic  system  of  channels — could  be, that is, if it were capable not only of  transmitting  but of receiving,  of  making  the  listener not only hear but also speak, not of isolating him but of  connecting him".
post a comment
---
http://feedproxy.google.com/~r/OneLaptopPerChildNews/~3/QAbp33EvSUY/
Christoph Derndorfer posted a photo:
post a comment
---
http://feedproxy.google.com/~r/OneLaptopPerChildNews/~3/AmKWhxB0yVc/
Christoph Derndorfer posted a photo:
post a comment
---
http://feedproxy.google.com/~r/OneLaptopPerChildNews/~3/3Qf8qzYJCiE/
Christoph Derndorfer posted a photo:
post a comment
---
http://feedproxy.google.com/~r/OneLaptopPerChildNews/~3/5yhBvpUmFLE/
Christoph Derndorfer posted a photo:
post a comment
---
http://feedproxy.google.com/~r/OneLaptopPerChildNews/~3/jnxRmmMv4AM/
Christoph Derndorfer posted a photo:
post a comment
---
http://feedproxy.google.com/~r/OneLaptopPerChildNews/~3/DktMfvBoheY/
Christoph Derndorfer posted a photo:
post a comment
---
http://feedproxy.google.com/~r/OneLaptopPerChildNews/~3/k3c-rKfODTM/
Christoph Derndorfer posted a photo:
post a comment
---
http://feedproxy.google.com/~r/OneLaptopPerChildNews/~3/4ymy5BmsXjI/
Christoph Derndorfer posted a photo:
post a comment
---
http://feedproxy.google.com/~r/OneLaptopPerChildNews/~3/7qOZSz3a4Xc/
Christoph Derndorfer posted a photo:
post a comment
---
http://feedproxy.google.com/~r/OneLaptopPerChildNews/~3/jqXxyHnvR-g/
Christoph Derndorfer posted a photo:
post a comment
---
post a comment
---